Rosie Bosworth talks to Janette Searle from Take My Hands.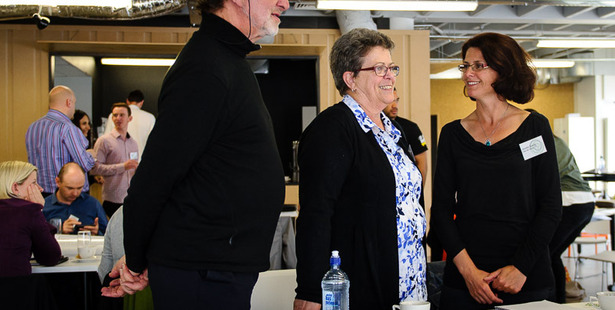 RB: Describe Take My Hands?
Janette Searle: Take My Hands improves the lives of those less fortunate abroad by redistributing medical equipment to those in need internationally – for free. How? By utilising spare capacity and resources; in our case recycling medical equipment that can no longer be used here, and teaming it up with spare warehouse space, transport, and volunteer time.
RB: Tell us about the brains behind TMH.
JS: Four of us make up TMH. My background is in the creative and health sectors. I'm great at making stuff happen so I look after the project management, business management and funding aspects. Carol Searle, my co founder, brings expertise from the health and disability sector. Linda Grey is our awarding-winning finance brain and whizz with all things numbers-based. Haylee Bright performs magic with all things admin, organisation and co-ordination focussed.
RB: Tell us about the "aha" moment for TMH?
JS: It happened in 2010 at a conference for Orthotists.
I was talking with a prosthetist about what happens to all the old artificial arms and legs and learned that they were simply dumped. That conversation sparked the idea that led to our first project – sending 500kg of prosthetic equipment to an organisation overseas that fits prosthetics free to those in need. Our projects have grown, both in terms of range of equipment, quantity and the spread of countries we send to.
RB: What gaps does TMH fill?
JS: We're the connector between the "haves" and "have nots" with both an environmental and social impact. Currently good equipment is dumped because, for whatever reason (regulation, convenience, becoming obsolete in some way), it can no longer be used here. This equipment still has usable life left in it. At the same time, people in need in less fortunate regions of the world are screaming out for equipment that doesn't cost the earth.
RB: What will society look like 10 years from now because of TMH?
JS: We will have an economy that trades in spare capacity operating alongside the normal 'cash-based' economy. We will have inspired a raft of sharing economy based organisations focused on connecting people and organisations across the globe with spare equipment, resource, time and space to those in need.
RB: Do you see TMH evolving into something bigger?
JS: Once we've nailed our current systems and processes, the idea is to expand the basic model. The model can be scaled up in two ways: geographically, in terms of having equipment being donated from a range of donor countries and in terms of expanding the range of equipment verticals we focus on – like veterinary equipment and medications, or building equipment. Take My Hands will essentially act as the support medium, providing the tools, knowledge, experience, systems, processes, platforms.
Check out Te Radar's interview with Take My Hands here.
http://www.nzherald.co.nz/socialenterprisenews/news/article.cfm?c_id=1503719&objectid=11395367