5th year and not showing any sign of slowing!
As we approach our 5th anniversary we wanted to share the latest news and developments here at Take My Hands, including exciting sustainability recognition from the NZI Sustainable Business Network Awards for 2017, a link for a presentation our Managing Trustee held for the Engineers Without Borders conference, an update on how we plan to celebrate our anniversary and what our plans are for more shipments to those in need. We would love to hear your feedback about any of this so please join us on Facebook, Twitter, and LinkedIn to start a discussion or on One Percent Collective to help us make a difference.
Partners making a difference
The good work our partners and donors are doing is being noticed far and wide, and as such we are establishing strong relationships with those who can make a real impact. It is exciting for us to watch these relationships grow.  It is worth mentioning that we are pleased to have a great relationship with NZALS for prosthetics which enables us to continue collect prosthetic and orthotic equipment from all over the country from them for redistribution to those we support in the Asia Pacific. This keeps us true to the roots in which we started TMH.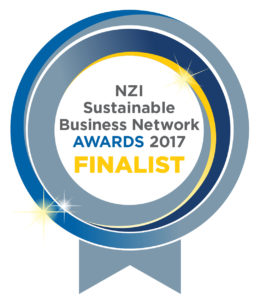 However it is our partnerships in general medical equipment that has gained us the most attention recently. We are delighted to announce that TMH is a finalist in the Partnership for Good Category of the NZI Sustainable Business Network Awards for 2017.  We're incredibly excited as we know the calibre of the other entrants is incredibly high, and the work the other finalists are doing is outstanding.  We're also excited because being a finalist allows us to recognise the fantastic work our partners do and contribute to the projects we do.  If it wasn't for the partners involved in our work, none of this would happen.  So we'd like to take this opportunity to once again thank the awesome organisations and businesses involved in the Solomon Islands work:
– PBT Transport
– NZ Post Global Logistics
– Swire Shipping
– Frank Short and Solomon Islands in Focus
– Dr Dalipada and the Ministry of Health and Medical Services in the Solomon Islands,
– Dr Rooney Jagilly and the NRH Hospital
We'd also like to thank Alfred Sasako for his support and help in the Solomon Islands …. and a big huge thank you again to Frank Short.  It was he who made contact with us several years ago and as a result of that kicked this whole body or work off.
Where are we sending to next and how can you help?
We are in the process of putting together a container of equipment and furniture for several NGO's in the Solomon Islands including Women's refuge, and orphanage and disability groups. We are aiming for that to go sometime in November. Our partners in the Solomon Islands work with those who have lost their homes, their families or their mobility and supports them to gain their independence again, and one way we can help is by helping them meet the needs of tangible items so that they can focus on the spiritual, cultural and emotional needs of the individuals. Our latest shipment is outside of our usual scope and items like office equipment, sewing machines, conference chairs, couches, beds and bedding and mobility equipment have been requested. With the Spring cleaning season upon us, please do contact us if you have items that could fill those requirements that you no longer need and that still have a bit of life in them yet. We would gratefully arrange collection and redistribution.
Valued Trustee retiring from the trust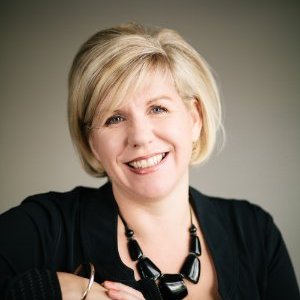 We wanted to take the time to highlight that one of our highly valued trustees, Linda Gray, is retiring from the Take My Hands trust to focus on personal and work related matters. Linda was instrumental in the establishment of the Take My Hands trust and the development and rapid growth, and we wouldn't be where we are today without her involvement.
We wish Linda all the very best and send her on her way knowing we are better for having had her involvement.
You'll be incredibly missed, Linda!
How are we celebrating our 5th anniversary?
We have our 5th year anniversary this year and will be launching a project that sees us partner with artists who are creating works based around the theme of connection.  We'll be showing more about that in the next month or so so keep an eye on our website and facebook page to see more.
Engineers Without Borders
Our Managing Trustee, Janette Searle, recently presented to the Engineers without Borders conference which was brilliant – they were looking at sustainability and cross sector approaches to creating impact. The presentation was about the lessons Janette has learned while working in the area of social change.  So I thought I'd share that presentation here for those of you who would like to read more about what Janette has to say.
Solomon Islands Media Release: NRH receiving more donations from ''Take My Hands'' Charity Trust, New Zealand
Originally published in the Solomon Islands on Friday 6th October 2017
Written by: Barbara Pwaisiho at the NRH Hospital in the Solomon Islands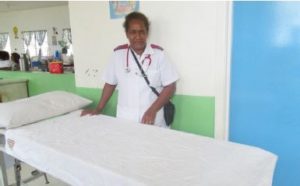 Honiara, Solomon Islands – this week, the National Referral Hospital (NRH) has receive more medical equipment donated by NZ based charity trust, Take My Hands Charity.
The Chief Executive Officer [CEO] Dr Steve Aumanu said, the National Referral hospital is very pleased with the continuing support of Take My Hands and its supporters especially Mr Short for continuous assistance to the National Referral Hospital.
''There is an increasing number of admission in the hospital and the quality of service given to patients is very significant in terms of infection control hygienic practices and mobility of patients, therefore the donated items such as hand gloves, gowns, linens, wheel chairs, crutches, wheeled walking frames, walking sticks and hospital beds are our great need at the moment.'' Said Dr Aumanu.
Some of the items that came in the container were distributed to women's group in Auki, Malaita province. We would like to especially thank Mr Jonny SY, Solomon Islands Forestry Association and Solomon Islands Ports Authority Management [SIPA] for the waiving of port fees and transportation to the medical store, NRH would not have the medical equipment at hand'', Medical superintendent office [NRH] Dr Rooney Jagilly said.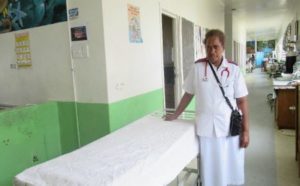 Clinical Nurse Consultant of Paediatric ward Ruth Soso, used one of the donated beds for Echo Children in the ward
''Take My Hands'' is a charitable organisation based in New Zealand that has been supporting and donating medical equipment's to National Referral Hospital and to other provincial Hospitals and organisation.
''We look forward to continued association with Take My Hands.'' Dr Rooney said.
We always love to hear from those of you who have something to say, so please connect with us either by email at info@takemyhands.org or on Twitter, LinkedIn, Facebook and One Percent Collective.